Residential Program in Iowa City
MYEP is proud to offer residential programs in Iowa City and the surrounding areas for adults with disabilities who are looking for an engaging way to build community, friendships, and life skills. 
What to expect from our Residential Program
MYEP offers 24-Hour Residential Services in Iowa City to adults with disabilities, aged 18 years and older. Our services are funded through the ID/BI Waiver Services and Home-Based Habilitation Services.
People within our residential services receive support within a home environment in local neighborhoods within the IC area. The homes we provide usually consist of 1-4 roommates, with staff support available 24 hours per day.
The services provided are person-centered and based upon the person's support needs, preferences, desires and goals. Individuals within the MYEP Residential Services are supported to be active members within their communities, focusing on community integration, socialization, and self-advocacy.
Areas of support include, but are not limited to:
• Personal Hygiene and Grooming
• Dressing
• Toileting
• Mobility
• Eating
• Transferring and ambulating
• Medication Adminstration
• Transportation
• Assistance with Medical Appointments
• Communication
• Behavioral and mental health
• Financial
• Grocery shopping
• Socialization and recreational
• Community integration
• Self-Advocacy
MYEP offers Payee Services as an optional financial support to the individuals in our Residential Program. These services are under the authority of the Social Security Administration (SSA) and are only offered to individuals receiving Residential Services from MYEP.
For questions about these services, please contact our Representative Payee at [email protected].
How To Enroll In MYEP's Services
MYEP's Residential Programs are committed to providing the best quality services to our individuals.  No matter what, we are dedicated to our values of continual improvement, ownership and engagement. 
Our Residential Program's focus and goal is to help our individuals grow within their communities, environment, and their personal life, so that they can live each and every day comfortably and happily.
Contact the MYEP team today, and help the individuals you love!
Getting started in 3-easy steps!
Fill out our contact form or give us a call to let us know you're interested.
Our online form is only a few fields, and gives you a place to simply state your contact information, as well as your needs, and any additional notes that you think are necessary to include.
We sincerely look forward to helping you find the best services possible.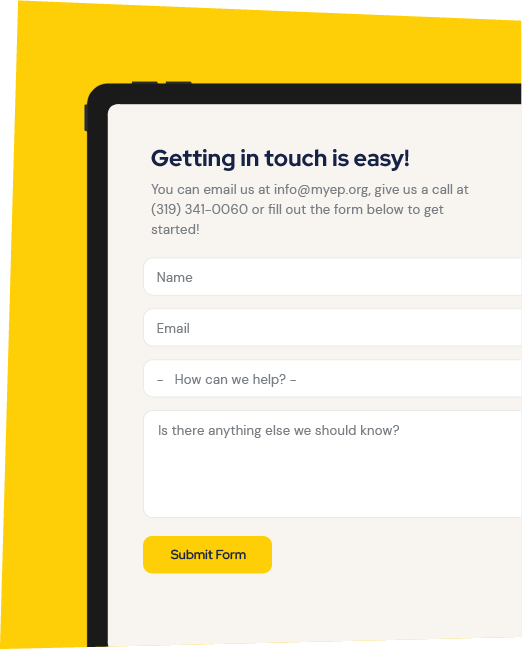 Our Director of Admissions will follow up with you to talk about your options with MYEP.
We believe that one of the best ways to determine how we can help someone placed in our care is to meet with them or their guardian first, and hear in conversation what you might be looking for.
Once this conversation has been had, we can decide whether or not MYEP is a good fit for you, and whether or not we'll begin the formal application process.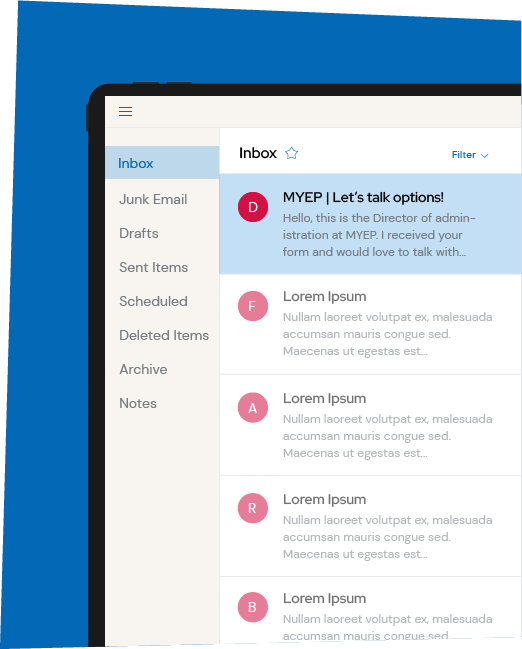 If MYEP is a good fit for you, we'll discuss next steps and get you started with the application process.
MYEP offers several different types of services and programs for a wide variety of individuals. Finding the one that fits you best is our top priority.
Our team will help you with the application process and any further questions you may have.